Spring has officially arrived, and that means the weather is finally warming up and people are getting active again after a long winter. In addition to getting outside more often, the spring also presents a good opportunity to clean your house, air it out, and take care of some maintenance that you put off all winter long. In today's post, we will provide you with five things you can do to get your home ready for spring!
One of the biggest things you can do to prepare your home for spring, as well as the following summer months, is schedule routine maintenance for your HVAC system. At Davis Heating & Cooling in Flemington, our HVAC contractors can provide you with the high-quality HVAC services you need to ensure that both your heating and cooling systems are functioning at peak performance. Explore our website to learn more about our services, and give us a call to schedule an appointment this spring!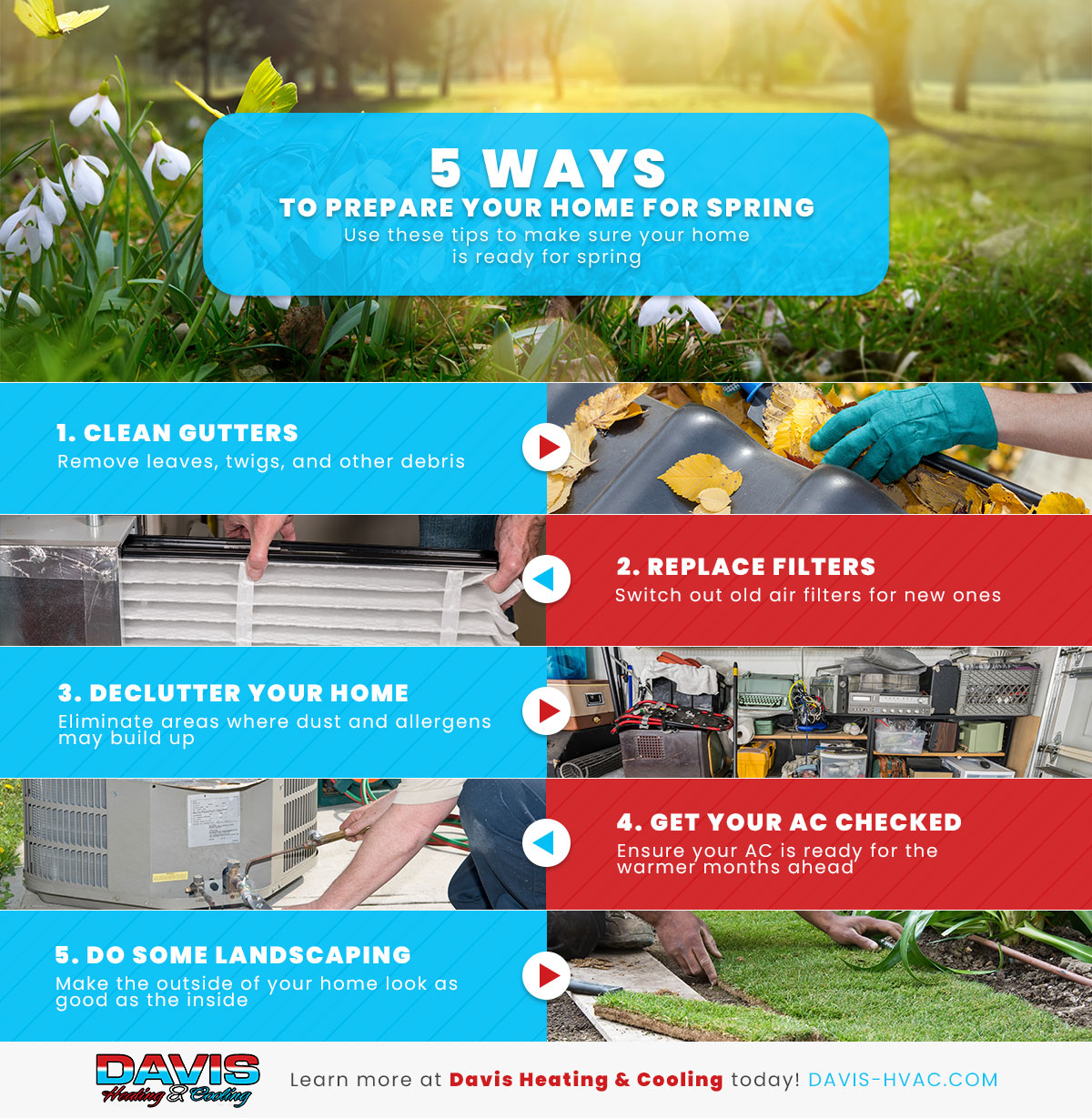 ---
Clean Gutters
Between the fall and winter months, your gutters collect fallen leaves, twigs, and all sorts of other debris. As a result, when spring finally arrives, gutters are often overflowing with dirt and debris, and when the spring showers inevitably come, your gutters aren't able to properly do their job. If you're looking for ways to clean up around the house, the gutters are a good place to start. Remove all of the accumulated dirt, twigs, and leaves so that when it starts to rain, your gutters can redirect water away from your siding and foundation the way they're supposed to.
Replace Filters
The filters in your home do an excellent job of filtering out dust, allergens, and other debris from the air. However, if it's been a while since you last replaced your filters, it's a good idea to do so as soon as possible. Ideally, you should replace your filters every three months or so, but it should be even more frequent if you have pets. The reason for this is because if your filters are full of dust, pet hair, or other debris, they can't properly do their job, which can lead to illness or increased issues with allergies.
Declutter Your Home
If you or your family members are suffering from allergies or illness, changing the filters is a great place to start, but another way you can eliminate allergens and dust from the air is to declutter your home. Every family has that one (or more) spot in their home where belongings just seem to accumulate and never get put away. As you can imagine, these areas can accumulate dust over time, especially if they go months without being touched. By taking the time to declutter your home, you can eliminate the sources of dust and allergens, as well as make it easier for your filters to do their job and filter the air in your home.
Get Your AC Checked
One of the best things about spring is that the temperature is often mild enough that you can get away with turning off your heat and opening the windows in your home for some fresh air. However, before you know it, the temperatures will heat up to the point where you will need to turn on your air conditioner in order to make your home more comfortable. When this happens, the last thing you want is for your air conditioner to have a problem, making you sweat it out in your home until it's fixed. We recommend having your AC checked by a qualified HVAC contractor before it's too late to ensure that everything is working properly for the summer.
Do Some Landscaping
Many people focus all of their spring cleaning efforts on the inside of their home, but you can never go wrong with a little work on the outside, especially after a long winter. Spring is when many plants come back to life, and if you're someone who takes pride in their gardening skills, then a great way you can prepare your home for the spring is by doing a little landscaping. Remove all the dead leaves and branches from your flower beds, turn the soil, and add some mulch to make sure your yard is ready for all your new plants.
Reach Out to Davis Heating & Cooling Today!
Spring has sprung, and if you haven't scheduled your routine HVAC maintenance, then Davis Heating & Cooling in Flemington can help! Our expert HVAC contractors can provide you with high-quality service and professional advice to ensure that your heating and cooling systems are functioning the way they should. Give us a call to schedule an appointment today.
We look forward to working with you!